Posted by K Miller on 6th Feb 2019
"I'd like to order a giclée print" is a phrase often heard throughout the day at our studio. But what does that mean? A lot of artists think of a canvas print when they ask for a giclée reproduction, but in reality the meaning of giclée is much more encompassing.
---
Giclée (pronounced zhee-KLAY) refers not to one particular material, but to an entire printing process. It entails the spraying of ink onto the desired archival substrate, whether it be canvas, paper, the list goes on! Why does this process matter in particular? Why is it so special?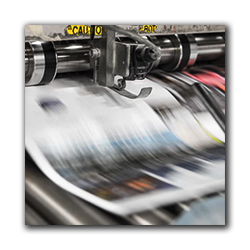 Utilizing the giclée printing process benefits artists in more ways than they may realize. Most home printers and office copiers use an InkJet process to create images. Inkjet, though it may do the trick for things like small family photos or documents, it pales in comparison with it's flexibility. Giclée printing utilizes pigment based inks as opposed to an InkJets dye based inks which allows for us to be able to provide our intensive color matching service. Giclée printing also utilizes archival ink which, unlike standard inkjet cartridges, holds the integrity of your reproduction for a much longer period of time (up to 100 years or more!). If taken care of properly, fading and discoloration are no issue.
The giclée process is so important to the work that we do at Skyline because we know it supplies a product that is not only a solid investment for you as an artist, but for your clients as well. Having the option for interested art buyers and appreciators to own a print of yours that is almost indistinguishable from the original and can last for decades to come is a win-win. Giclée allows all the hard work that went into your original pieces to shine through; dimension, color, and the finest of details will not be lost. As a company that celebrates hard work and creative growth, we choose to offer giclée products so that all of your hard work is viewed as nothing less than professional.
For samples of our different giclée options, sample packs are available in house or we can have them shipped to you. For more general questions about our printing process, feel free to email admin@skylineartprints.com.